I think the term is actually convex decomposition, not polygon deconstruction. Sorry x] You may be able to get more related results from Google with that.
But yeah, it is a rather complicated algorithm to make from scratch, even if you're already familiar with geometric stuff like Delaney triangulation. There is a Convex Decomposition thing in Box2D's contribution folder in Google Code (
http://code.google.com/p/box2d/source/browse/#svn%2Ftrunk%2FContributions%2FUtilities%2FConvexDecomposition
), but it's in C++. The syntax would be very similar with Objective-C, but not too much in class structure (I think).
ANYWAY, the chain shape solution is a great one, actually. With this, you won't need one body with lots of polygons (not that it's a bad thing, just complicated); just a few chain shapes will do the job. There are a couple of ways to do it (in my mind):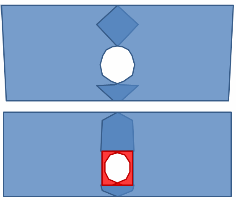 Click here for larger image
Both solutions involve at least two chain shapes to create a hole. The first solution (the top bit in the image) is pretty straight forward; two big chains shapes with an approximately curved concave edge to make a hole.
If there are two holes, there would be three big chain shapes:
- a left chain shape that has its right side made for the left half of Hole 1;
- a middle chain shape that has its left side made for the right half of Hole 1 AND its right side made for the left half of Hole 2;
- and a right chain shape that has its left side made for the right half of Hole 2
(Sorry if that was confusing). The algorithm would be relatively simple for that until you have holes that are horizontally close together.
The second solution (which isn't very apparent in the small image) is to have two small chain shapes to make the hole, and two big chain shapes to take up the rest of the rectangle. This wouldn't have the problem the first solution had for horizontally-close holes. Just make sure to fill up the rest of the rectangle with big chain shapes (more than 2 if needed).
Both solutions are relatively simple to make an algorithm for separate holes until you have two holes together that are not touching the edge of the big rectangle. I'll leave that one up to you. Perhaps ask r_bewick (the guy irresistible force mentioned with the link) on how to at least connect a hole with the rest of the damaged terrain (in the video).